Bringing wine data from the ISAGRI ISAVIGNE system into the eProvenance VinAssureTM blockchain enriches the ecosystem in which wine information "from grape to glass" is shared with supply chain members
Beauvais, France, January 11, 2022 - ISAGRI, a pioneer in publishing and integrating IT solutions for agricultural and wine businesses, and eProvenance, a company specializing in monitoring and analyzing wine shipment conditions, today announced a collaboration through which wine data from the first mile of the supply chain, exported from the ISAVIGNE software package, is integrated into the VinAssureTM blockchain. This partnership will provide greater transparency and an additional level of shared information across the wine supply chain.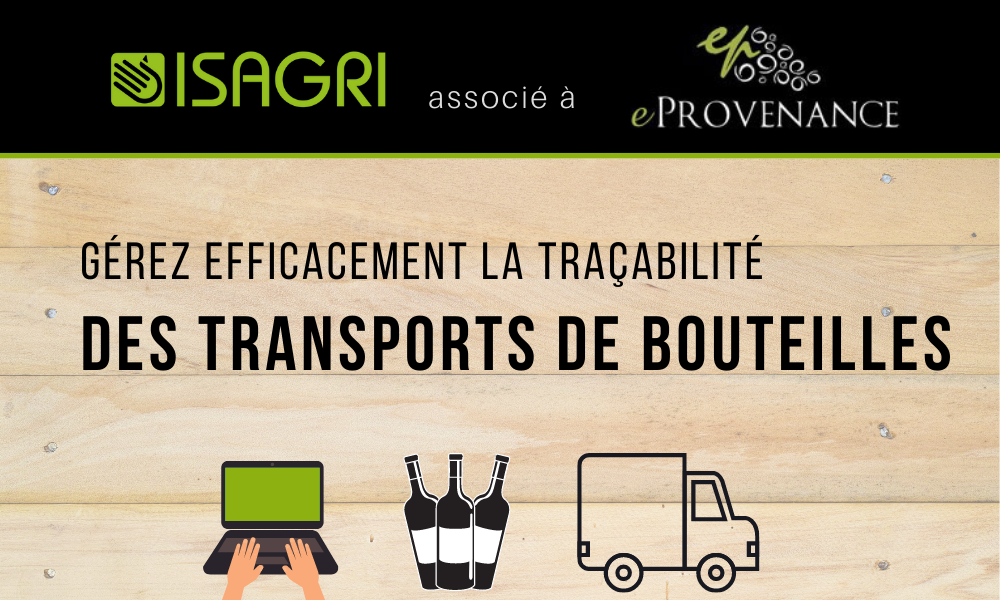 "Facilitating the export of certain data from ISAVIGNE software into the VinAssureTM blockchain directly contributes to the creation of a new type of ecosystem where winemakers, producers, traders, wholesalers, retailers, restaurateurs and consumers have access to the history and traceability of wine," said Bertille de Nacquard, market manager for viticulture at ISAGRI. "A real innovation in the wine industry, this transparency meets the needs of traders, importers, distributors and the expectations of consumers, who increasingly want to know the origin of their wine and its quality."
ISAVIGNE software simplifies wine business management. It helps winegrowers to manage their business and their turnover thanks to detailed customer and product files, and facilitates the follow- up of unpaid invoices. The solution also adapts to the needs of wineries by offering, for example, communication and e-commerce options. In addition, winegrowers save time by using ISAVIGNE to keep their inventory up to date and manage customs administration in accordance with regulations (automatic stock updates, e-DRM management, etc.).
While consumers now expect to be able to enjoy wines from anywhere in the world, global transactions and shipments in the wine industry have become more complex. "eProvenance is working with other wine industry players, such as ISAGRI, to lift the veil on these issues and improve outcomes," said Robin Grumman-Vogt, CEO of eProvenance. "Designed to build trust, VinAssureTM is based on a collaborative approach that connects members of the wine supply chain and gives them a shared, permanent, central location to record and view key information across a complex ecosystem."
eProvenance is a recognized technology innovator in the wine industry. Its proprietary algorithm, based on scientific research, determines if the wine still has its original qualities or has been compromised, not just if it has been subjected to inappropriate temperatures. The resulting eProvenance Score (0-100) clearly indicates if there are changes in the quality of the wine. eProvenance temperature monitoring services and the eProvenance Score are an integral part of VinAssureTM and provide critical data on the quality of wine shipments from origin to consumer.
By promoting transparency, accountability and efficient data exchange, VinAssureTM ensures that the exacting methods of the world's best winemakers are not compromised by errors in the supply chain, misinformation or improper conditions during transport. VinAssureTM is designed to give rise to a new wine industry ecosystem that serves the trade and provides consumers with more information to help them ensure that the wines they buy meet their expectations.
For more info:
https://contact.isagri.fr/isavigne-en-lien-avec-vinassure-d-eprovenance
youtube: https://www.youtube.com/watch?v=8xG-uKcfJ3E
Key figures for ISAGRI Group:
2,250 employees - 12 international subsidiaries - Turnover: 241 M€
ABOUT ISAGRI: A FRENCH SUCCESS STORY
Founded in Beauvais in 1983 by a group of agricultural enthusiasts, ISAGRI quickly revolutionized the French agricultural market by making information technology accessible to the greatest number of people. A pioneer in the sector, ISAGRI helps farmers and accountants to manage their businesses more effectively with management and accounting software (plot monitoring, herd management, wine-making management, etc.).
Find us at www.isagri.fr ; facebook.com/ISAGRIFrance ; twitter.com/IsagriFrance ; youtube.com/c/ISAGRIFrance ; linkedin.com/company/isagri
ABOUT EPROVENANCE
A leader in the field of wine shipment tracking and analysis, eProvenance offers innovative services for tracking sensitive cargo at the container, pallet and case level. With temperature, humidity, shock, and geo- location shipment tracking solutions tailored to a wide range of needs and budgets, eProvenance provides clear, actionable information that our customers use to assess the performance of their global distribution channels, ensure asset quality and value, verify provenance, and make informed decisions based on shipment analytics to protect their brand. The company is based in the United States and France, and works with wine producers, importers, transporters and merchants worldwide. eProvenance holds trademarks and patents for its technology worldwide. Find us on LinkedIn et Twitter @eProvenance and at www.eprovenance.com