Welcome to Antoine Poupart !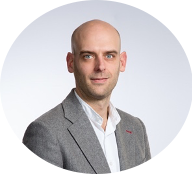 Capagro is pleased to welcome Antoine Poupart among the eleven experts of its advisory board. His career marked by 14 years of experience at InVivo has shaped his opinion and knowledge of the sector.
Antoine Poupart started his career at InVivo in 2006 where he quickly joined the new Sustainable Agriculture division. He founded Agrosolutions -consultancy subsidiary of InVivo- and ran the unit during 5 years.
Antoine is now Chief Marketing and Innovation Officer of Bioline by InVivo (Ag division). He also founded and is the Chairman of Bioline Insurance, an innovative insurance broker dedicated to food chain risks. Antoine has graduated from AgroParisTech, and holds an Executive Master in Management from HEC.